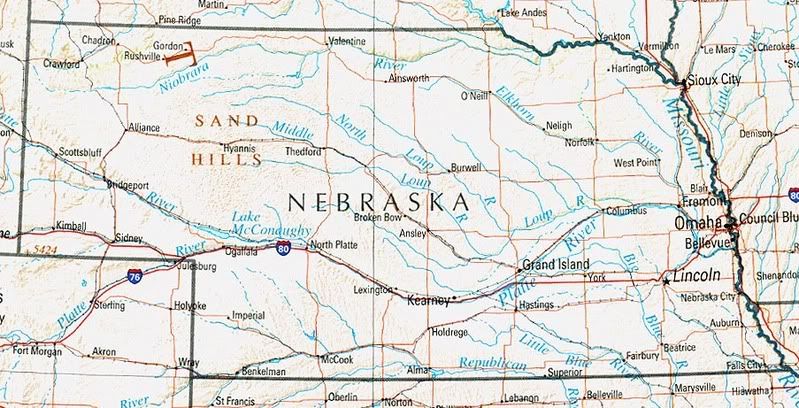 Nebraska Maps
We are headed off for an exciting adventure to Omaha, NE. With the peaceful sounds of a crying baby and whining kids asking "are we there yet?"; we will have miles and miles of amazing plains and grasses to gaze upon. But on the flip side, we are doing our first (and maybe last) long road trip with the girls. We are going to visit my grandma and see all that Omaha has to offer. As I was packing, I began to think, "what does Omaha have to offer?" One quick google search and I found a plethora of fun facts and figured out a few places we should see while we are there.

A little Nebraska trivia.

State Capital – Lincoln

Largest City - Omaha

Area - 77,358 square miles (Nebraska is the 16th biggest state in the USA)

Population - 1,711,263


State bird- Western Meadowlark

State animal- White-tailed deer

State beverage- Milk

State Soft drink- Kool-aid

So, I never knew there was such a thing as a state beverage or soft drink, and unlike my husband's side of the family that can name almost any bird flying by, I had no idea what a Western Meadowlark looked like. Maybe we can spot one sitting in the endless fields.

If your curious as to what your state's beverage, soft drink, or any other state fact is, visit Enchanted Learning.

I will be sure to keep you posted on the adventures and places we see. Hopefully it won't turn into the famed Chevy Chase's Vacation.